Australia helicopter collision: Passenger tapped pilot before crash, footage shows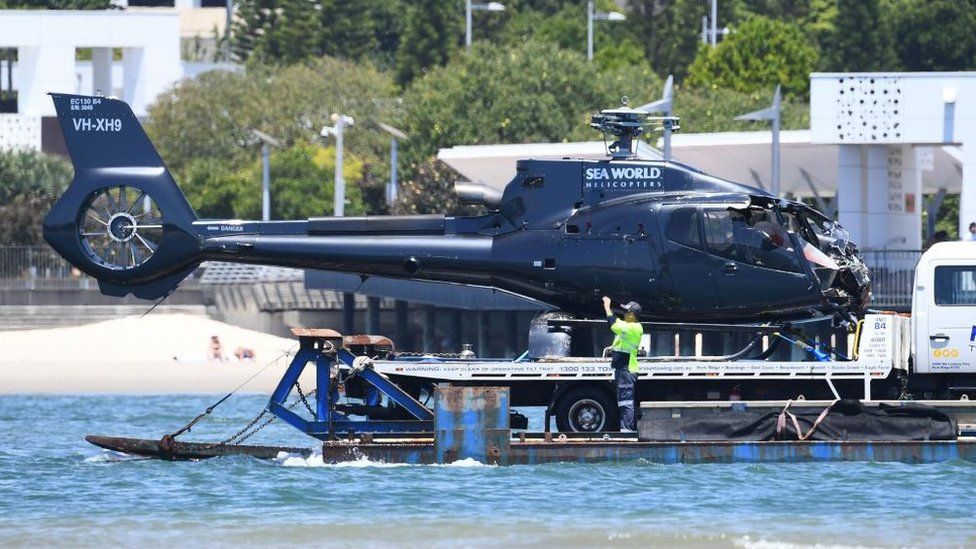 A survivor of a deadly helicopter collision in Australia had tried to warn a pilot of impending danger, a video appears to show.
In the footage, a passenger in the backseat of the aircraft is seen tapping the pilot's shoulder.
Pilot Michael James turns his head in response, while the passenger then grips his seat.
The helicopter and another collided a moment later, killing a UK couple and two Australians on the other aircraft.
The footage - obtained by Australia's 7 News - was filmed on board a Sea World sightseeing helicopter that was descending on the Gold Coast on Monday afternoon.
Mr James managed to land the helicopter safely after the rotor blade of an ascending helicopter crashed through its windscreen.
Five of the six people on board the descending helicopter suffered minor injuries.
Three other people on board the other aircraft were badly injured, after it fell rapidly to the ground.
The four people killed were Sydney resident Vanessa Tadros, British couple Diane Hughes, 57, and her 65-year-old husband Ron, and 40-year-old Sea World Helicopters pilot Ashley Jenkinson, who was originally from Birmingham.
The Hugheses' family put out a statement saying they were "still in a state of shock", ABC News reported. Ms Tadros' husband, Simon, sought prayers on social media for their 10-year-old son Nicholas, who is one of those badly injured and in intensive care.
Both helicopters were operating tourist flights for Sea World, a popular theme park on the Gold Coast.
The company that owns Sea World, Village Roadshow Theme Parks, offered condolences, and said Sea World Helicopters is an independent operator.
Investigators say they are looking into what caused the collision, including the situation in the two cockpits. "What we do need to know now is what was occurring inside those two cockpits at the time," air safety commissioner Angus Mitchell told reporters on Wednesday.