Elderly nun dies in blast at Ukraine Orthodox church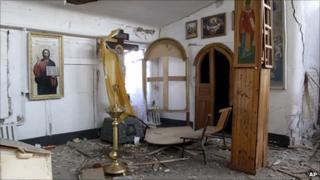 An 80-year-old nun has died after an explosion at an Orthodox Christian church in southern Ukraine which injured at least eight other people, officials say.
The blast in the city of Zaporizhzhya is believed to have been caused by a homemade explosive device. It is not clear who is behind the explosion.
It came towards the end of a visit to Ukraine by the Russian Orthodox Patriarch Kirill I which has attracted protests by right-wing nationalists.
Wednesday saw Orthodox church celebrations in the region of the anniversary of the adoption of Christianity in 988 AD.
As well as heading the Russian Orthodox church, Patriarch Kirill also leads the largest branch of the Ukrainian Orthodox church. However some clergy in Ukraine have declared themselves to be independent of Moscow.
'Parcel bomb'
Local media said the woman who died in hospital following the explosion was a nun from the Holy Protection of the Virgin church - which belongs to the Ukrainian Orthodox Church of the Moscow Patriarchate.
Emergency official Yulia Barysheva told Associated Press news agency that the device detonated near the entrance of the church.
Other officials were quoted by Ukrainian media as saying the device was a parcel bomb and was equivalent to 500g of TNT.
A spokesman for the regional interior ministry, Olexandre Volkodav, said a team of investigators was at the scene.