Bulgaria ex-PM charged over missing state secrets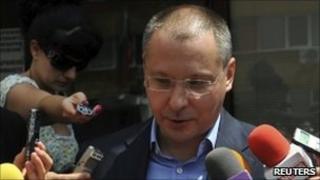 Bulgaria's former Prime Minister, Sergei Stanishev, has been charged with mishandling classified documents.
Prosecutors say he failed to return seven documents containing state secrets on security and organised crime after losing last year's election.
Mr Stanishev, who is now leader of the opposition Socialists, has denied any wrongdoing.
Bulgaria is under EU pressure to show progress in fighting corruption and organised crime.
Mr Stanishev faces up to two years in prison if he is found guilty.
He said the charges were politically motivated.
The documents had been prepared by the National Security Agency, the interior ministry, the defence ministry, Nato and contained state secrets, the prosecutors said.
In 2008 the European Commission suspended about 500m euros-worth of EU aid to Bulgaria because of concerns about corruption and organised crime.
The EU is to assess Bulgaria's progress on these fronts this month. If it is not satisfied, Sofia stands to lose access to some of 11bn euros ($14bn; £9.2bn) in EU aid.