Celebrity photographer held in French heiress scandal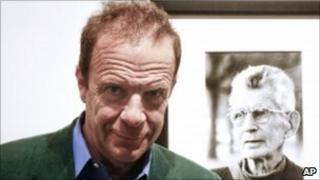 Four people have been arrested in a tax-evasion investigation into France's richest woman.
Police have opened three probes involving L'Oreal heiress Liliane Bettencourt following allegations of tax evasion and of illegal donations to the president's 2007 election campaign.
Those arrested on Thursday include society photographer Francois-Marie Banier, a friend of the heiress, 87.
The case has rocked Nicolas Sarkozy's government.
Mr Banier was formally detained for questioning at the Paris office of the financial crimes unit.
Mrs Bettencourt's financial adviser Patrice de Maistre and her former tax lawyer, Fabrice Goguel, were also held.
Carlos Vejarano, the manager of the Arros island in the Seychelles, which Bettencourt allegedly owns and used as a tax haven, and allegedly gave to Mr Banier, was the fourth person seized by French police.
'Lies and calumny'
The four men were expected to be held for 48 hours, after which police must decide whether to press charges.
Mr Banier is already facing trial charged with abusing Mrs Bettencourt's frailty to obtain gifts with a value estimated at up to 1bn euros ($1.28bn; £800m).
He is being sued by Mrs Bettencourt's daughter, Francoise Bettencourt-Meyers, for allegedly exploiting her mother's mental fragility to gain access to her fortune estimated to be worth 17bn euros ($20bn; £14bn).
Mr Banier, who denies all the charges, made his name as a photographer, and his work has been published in Le Figaro and the New Yorker.
In his youth, Mr Banier was the friend of 1960s cultural figures including Salvador Dali and Samuel Beckett.
But his friendship with Mrs Bettencourt angered her family. Mrs Bettencourt's daughter called him the "predator".
The affair has embarrassed Mr Sarkozy's government because of allegations that his campaign team accepted 147,000 euros from Mrs Bettencourt to help his election in 2007, around 20 times the legal limit.
Mr Sarkozy has vigorously dismissed the accusations, calling them lies and calumny.
He claimed his opponents were trying to destabilise the government as it tried to reform the pension system.
Mr Sarkozy has also expressed confidence in Labour Minister Eric Woerth, who is accused of accepting illegal donations. He has denied any wrongdoing.
The latest twist came as Mrs Bettencourt, the main shareholder in the cosmetics giant L'Oreal, called for an audit into firms managing her fortune to show she was mentally competent.