German Lutheran bishop resigns over abuse case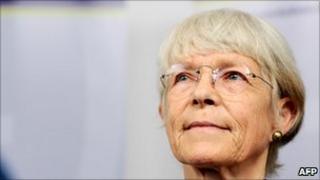 The bishop of Hamburg - the world's first female Lutheran bishop - has resigned amid criticism of her handling of a sex abuse case.
Maria Jepsen stepped down saying her credibility had been contested.
She denies having known before May this year about a priest in the town of Ahrensburg who reportedly sexually abused boys and girls in the 1980s.
The case has echoes of scandals that have hit the Roman Catholic Church in Germany and elsewhere this year.
Maria Jepsen was elected bishop in 1992, becoming the first woman to become a Lutheran bishop.
"My credibility has been put in question," she said.
"Consequently, I feel that I am no longer able to spread the good word, as I vowed to do at my ordination.
"I expect that the... cases in Ahrensburg and elsewhere will be swiftly investigated and that the truth will come to light."
Series of scandals
Maria Jepsen is the third bishop to resign in Germany in recent months.
Roman Catholic Bishop Walter Mixa resigned in April after claims he hit children.
And the former head of the Protestant Church in Germany, Margot Kaesmann, resigned after she was caught by police drunk driving.
Germany set up a forum earlier this year to look into allegations of child sex abuse at church establishments and schools, following several scandals, mostly related to the Catholic Church.
They include the alleged abuse of scores of boys at Catholic schools in Bavaria, and an investigation into whether the head of Germany's Catholic bishops' conference, Archbishop Robert Zollitsch, allowed the re-appointment of a priest accused of child abuse in 1987. The archdiocese has rejected the charge.
Correction 19 July 2010: This story has been amended to make explicitly clear that this case is not directly related to the scandals affecting the Catholic Church.