Croatia 'could drop genocide suit against Serbia'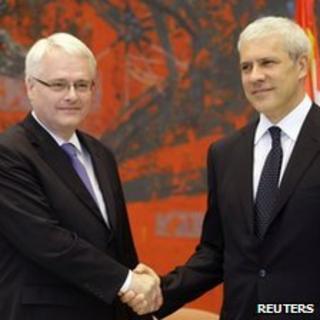 Croatia could withdraw a genocide lawsuit filed against Serbia if relations between the two countries are improved, the Croatian president says.
President Ivo Josipovic raised the possibility during his first trip to Belgrade since his election this year.
The government of Croatia still wants Serbia to punish individuals accused of war crimes during the 1990s war.
But both nations now say reconciliation is possible, years after the the break-up of the former Yugoslavia.
Both President Josipovic and his Serbian counterpart Boris Tadic have stressed there is a new era of cooperation between the two countries.
But 15 years since the war began between Croat forces and Serb separatists - backed by the government in Belgrade - the wounds are still raw, says the BBC's Mark Lowen in Belgrade.
Change of policy
In 1999, Croatia filed a lawsuit at the International Court of Justice in the Hague, accusing Serbia of genocide, when Croats were targeted by Serb forces during the heaviest fighting.
A decade later Serbia filed a counter genocide suit against Croatia for war crimes committed against Serbs.
But now Croatia's President Ivo Josipovic has suggested a change of policy.
If the process of reconciliation continues and outstanding bilateral issues are solved, President Josipovic says his government would consider dropping the lawsuit.
"It's possible. But the decision will be the end of the process because we have some expectations," he said
"They are connected to reconciliation, to the punishing of war criminals. So if all these requirements are fulfilled then the suit is unnecessary."
It's an opinion shared by Serbia's President Boris Tadic as both men strive to show how their two countries are now prepared to move on from their painful past.
Their shared goal is European Union membership - which Brussels says will only be achieved with better regional cooperation.
The rhetoric from both camps has been that dialogue and understanding now define a relationship destroyed by war - and that a new era has begun between these two Balkan neighbours, our correspondent says.