French minister Eric Woerth to be questioned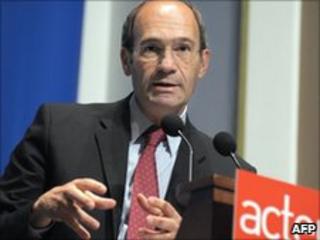 French prosecutors have asked to question Labour Minister Eric Woerth over a political scandal linked to France's richest woman.
The request is expected to be approved by the French cabinet on Wednesday.
The scandal involves allegations of illegal political donations and tax evasion by L'Oreal heiress Liliane Bettencourt.
Both Mr Woerth and French President Nicolas Sarkozy have denied any wrongdoing in the case.
A government report said last week that Mr Woerth did not use his former position as budget minister to spare Mrs Bettencourt from tax inspections.
Following the request from the prosecutor's office in Nanterre, Mr Woerth is expected to be questioned by the judicial police and by the prosecutor leading the investigation into the affair, AFP news agency reported.
It quoted Mr Woerth as saying he had himself asked for a hearing with the judicial authorities.
Cabinet authorisation is required whenever prosecutors wish to question a minister.
Wife's job
The investigation came after Mrs Bettencourt's butler made secret recordings that appear to refer to her having undeclared bank accounts.
A separate investigation is under way into claims that Mrs Bettencourt made donations to Mr Sarkozy's 2007 presidential campaign that far exceeded the legal limit.
Mr Sarkozy and Mr Woerth, who was acting as treasurer for Mr Sarkozy's UMP Party at the time, both deny the claims.
French newspaper Le Figaro reported that Mr Woerth would be questioned over the allegations of illegal political donations, as well as the circumstances under which his wife got a job with the company managing Mrs Bettencourt's wealth.
Mr Woerth's wife has since resigned from the position, and has also denied any wrongdoing.
Mr Woerth is seen as a key ally of Mr Sarkozy, and drew up a major pension reform approved by the French cabinet this week.