France air controllers' strike disrupts European travel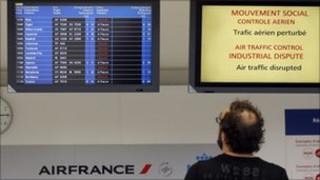 A strike by air traffic controllers in France is causing serious disruption to domestic and European flights.
In Paris, one in five flights from Charles de Gaulle airport were cancelled on Wednesday, while half of flights from Orly are grounded.
Air France said the flights affected are short and medium haul only. Long haul should take off as normal.
Disruption is expected at most French airports due to the strike, according to the civil aviation authority DGAC.
The action - the third major airport strike in France this year - is scheduled to run until 0400 GMT Thursday.
Budget airline Ryanair have called for the government to deploy the army to ensure airports are kept open despite the strike.
The company said the government should "intervene in future strikes...if necessary by calling out the French military to operate air traffic control".
Stranded overnight
Unions representing air traffic controllers called the strike to protest against plans to merge France's 4,000 controllers and 8,000 other DGAC personnel into a European-wide system.
The new proposal would condense the 27 separate air traffic systems in the European Union to nine hubs. Unions say this would mean job cuts.
Two unions have dropped out since the strike began on Tuesday night.
Budget airline Easyjet has cancelled about a third of its departures from Charles de Gaulle and Orly to destinations across Europe, according to its website.
Simone Battaglia, 30, was stranded overnight in Orly after his Easyjet flight home to Naples was scrapped.
"The company is just offering us a flight for Milan tomorrow," he told the AFP news agency. "But Milan is hundreds of kilometres from Naples. That means we will have to take the train. It is a waste of time and money."