Turkey unlikely to move on PKK disarmament offer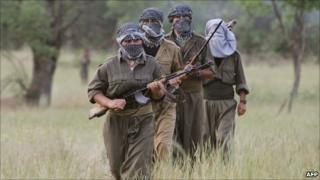 Turkey is unlikely to respond directly to the offer from the leader of the Kurdistan Workers' Party (PKK) to disarm under UN supervision.
Murat Karayilantold the BBCthat his rebel group would agree to a truce in return for greater political and cultural rights for Turkey's Kurds - the most open call for peace it has made in the 26 years it has been fighting.
But coming after three months of increased PKK activity, which has left scores of Turkish soldiers and civilians dead, and with the country already locked in a tense political struggle, any response from Ankara is likely to be muted.
Already under fire from opposition parties for his attempt last year to introduce reforms aimed at boosting rights for his country's estimated 15 million Kurds, Prime Minister Recep Tayyip Erdogan now faces the toughest challenge to his eight years in power - a constitutional referendum on 12 September.
The 26 proposed amendments include those to laws on freedom of expression and political parties. Both have been used against Kurdish politicians, who have faced long jail sentences and whose parties have been closed down.
Further changes will make Turkey's autonomous judiciary more directly answerable to the ministry of justice.
Many hope this will prevent a repeat of an incident earlier this year when state prosecutors chose to ignore a government amnesty and ordered the arrest of PKK fighters who had voluntarily given themselves up.
With Turkey's main opposition parties campaigning for a "No" vote, the result is very much in the balance and is being widely regarded as a dry run for next year's parliamentary elections.
'Hatred'
In short, this is not the best time for Mr Erdogan and his AK Party to be brokering a peace deal with a group Turkey designates as a terrorist group, and which most Turkish voters would probably prefer to see destroyed.
"Turkish society is full of hatred for the PKK for obvious reasons," says Mustafa Akyol a columnist on Turkey's main English-language paper, Hurriyet Daily News, who has written extensively on Kurdish issues.
"A peace settlement is the only logical solution, but it won't be popular and would only be feasible after the election. And then only if the AKP can convince the opposition to support it," he adds.
Other commentators are more optimistic, however, and view the PKK offer as an opportunity.
"Public opinion in the south-east is clear, there has to be a ceasefire," says Oral Calislar a columnist on Turkey's influential daily, Radikal, who has twice faced prosecution for interviewing the former leader of the PKK, Abdullah Ocalan.
"Both sides have to stop fighting - the military has to stop its operations against the PKK and the PKK has to put down its weapons."
Captured and tried in 1999 for leading the PKK in its armed insurrection, Ocalan narrowly escaped the death penalty, and is currently serving a life sentence in a Turkish prison.
Significantly, the PKK's offer to disarm does not include the condition that Ocalan be released - a demand that the group had previously insisted on.
"It seems they have realised that there are some things they can't ask for," Mr Calislar says. "That can only be positive."