Germans hot and bothered by sizzling trains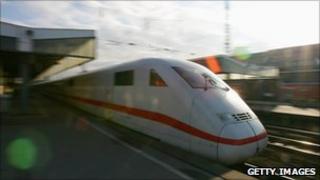 Germany's high-speed trains may be known by the acronym ICE but stifling heat has sparked a furore over Deutsche Bahn's national rail services.
Crisis talks are opening shortly because air-conditioning breakdowns on trains have prompted the company to pay compensation to angry passengers.
For anyone who got medical help after riding on an overheated train Deutsche Bahn (DB) is offering 500 euros (£421) plus a ticket refund as compensation.
DB has now paid more than 2,200 people.
German media report that temperatures aboard some DB trains have soared above 50C, while the air-conditioning was only designed to cope with a maximum of 32C.
Ruediger Grube, chief executive officer for DB, is to discuss the problem on Thursday with German Transport Minister Peter Ramsauer and other government officials.
Mr Grube has questioned the construction quality of Inter City Express (ICE) trains, but the head of the German Railway Industry Association, Ronald Poerner, rejected the criticism.
"Our manufacturers do not produce trash, or any trains with any system malfunctions," Mr Poerner said, adding that poor maintenance might be to blame for the breakdowns.
German ZDF television reported that 27 children were taken to hospital in the northwestern city of Bielefeld on 10 July after their overheated train stopped there.
Germany, like other parts of Europe, has been gripped by a heatwave this month.
DB says air-conditioning systems on the next generation of ICE trains, due to enter service next year, will cope with temperatures of up to 40C, the Deutsche Welle news website reports.