Serbia and Kosovo react to ICJ ruling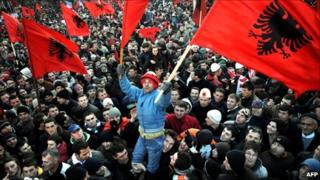 On the day of a landmark International Court of Justice (ICJ) ruling on Kosovo's independence declaration BBC correspondents look at the reactions in Pristina and Belgrade.
Violeta Hyseni, BBC News, Pristina
First there was silence, then loud cheering and applause at the government hall where officials had gathered in Pristina to watch the verdict live on TV.
Then the deputy prime minister, Hajredin Kuci, opened a bottle of champagne and everyone raised a toast to the decision.
"This is a victory for justice, a victory for Kosovo and the region as a whole," Kuci said, adding that it marked the opening of a new political chapter for Kosovo.
A few miles away, Kosovo's president, Fatmir Sejdiu, was already thinking ahead.
"Today's opinion of the court ultimately removes all the dilemmas that the countries that have not yet recognised the Republic of Kosovo might have had until now," he said.
"That is why we again are calling on those countries to take as soon as possible the decision to recognise Kosovo as an independent and sovereign state".
'Reconciliation'
Kosovo Albanians followed intently what was happening miles away in the Hague, watching the proceedings live on TV.
Blerim Gjocaj, an actor from Pristina, said that he was overcome with emotion.
"I was surprised, I was watching TV with my friends and we were like, this is not happening, this is impossible.
"They were so clear about the decision and suddenly our emotions erupted.
"We were hugging each other and went out in the street, and started to party," he added.
He said that the decision will be important for his country's future.
"I hope that everything now is going to move forward, that today's decision will trigger new recognition for Kosovo.
"This way all the ethnicities living in Kosovo will see the common future in this new country, and this can be a great foundation for reconciliation," he said, whilst heading towards a bar in downtown Pristina.
Outside in the streets of Pristina, celebrations had already begun.
Kosovo Albanians descended on the streets, blowing the horns of their cars and waving Kosovo's flag.
For Blerim and for all Kosovo Albanians, this is going to be a long night of celebrations.
Mark Lowen, BBC News, Belgrade
In the run-up to the court's decision, the Serbian government had called it "the moment of truth".
The result was not what Belgrade had expected.
Serbia was convinced the ICJ would never sanction what it says was a "flagrant violation of international law".
Official reaction to the decision was swift and defiant.
The Serbian president, Boris Tadic, said Serbia would "never recognise the unilaterally-declared independence of Kosovo" and reiterated his government's call for fresh talks at the United Nations over Kosovo's status.
But that will now be difficult to achieve.
Pressure is mounting on Belgrade to give ground, especially if another wave of countries now recognise an independent Kosovo, as is expected.
A two-thirds majority in the UN General Assembly is the minimum requirement for Kosovo to become a UN member.
Sixty-nine countries have already recognised it, out of a total of 192. Now more are almost certain to follow.
On the streets of Belgrade there was bitter disappointment - though none of the violence that some had feared.
Zoran, a pensioner, said it was "unjust for somebody to take our own territory".
"It is the roots of the Serbian people. We are weak. They ganged up on us."
Another woman said she knew it would happen.
"When you fight with someone bigger, you have to expect you'll be beaten," she said.
Serbs still see Kosovo as their Jerusalem - the cradle of Serbian culture and religion.
The international community had hoped this decision might prove a new opportunity to break the deadlock between Belgrade and Pristina.
But if Serbia sticks to its ground, the impasse between the two could simply continue.