France protects flag after bottom-wiping photograph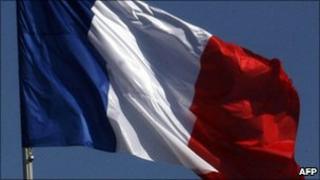 France has introduced a rule to protect its national flag from insult after a photo of a man wiping his bottom with the tricolour caused outrage.
Under the rule, anyone caught trying to "destroy, damage or use the flag in a degrading manner" could face a fine of 1,500 euros (£1,250; $1,900).
The offending picture won a prize in a photo contest in the southern city of Nice in March.
It was later published in a free national newspaper.
The photograph showed a man seen from behind with his trousers around his ankles, apparently wiping his bottom with the flag.
Justice Minister Michele Alliot-Marie said at the time that the tricolour should not be used in this way.
Until now, it was only an offence to insult the French flag in an event organised by the public authorities.
The new rule, introduced by government order, makes it illegal to do this "in any public place or place open to the public".
The photograph was displayed in a competition run by the media retailer Fnac.
It won a special mention in the "politically incorrect" category, before being withdrawn following complaints.