Grief matched by anger over crush deaths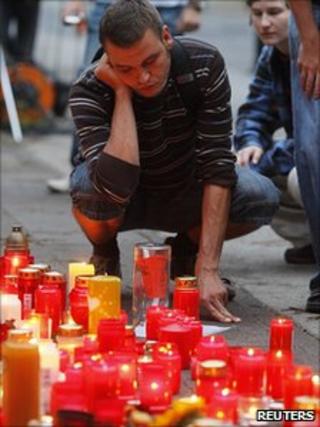 Perhaps the most poignant scenes in the town of Duisburg are the growing memorials to victims of the tragedy.
They have sprung up at the entry points to the tunnels that led to the Love Parade music festival.
Candles are being lit to remember the dead - but the grief is also matched by anger.
Local residents who saw the crowds are aghast that so many people were herded into such confined spaces.
Ron Morine lives on one of the streets that the festival-goers had to walk along just before they entered the tunnel.
He says he felt uncomfortable from the start of the day.
"Just from seeing how many people were on the street and knowing how narrow the tunnels were, it was an accident waiting to happen," he said.
But while some question the location of the Love Parade, people who actually witnessed the horror inside the tunnel are concerned at the behaviour of the police and security guards.
Harrowing scene
Lisa Konig helped those who had collapsed on the floor.
"The police had closed the tunnel so no-one could come in," she said.
"I came down from the festival and I saw people being resuscitated so I ran into the tunnel to help them. It was unbelievable."
In the area Lisa describes - at the point where the two tunnels meet - it is possible to make out the white chalk marks in the shape of human bodies, each one numbered.
This is where the victims died and it is a harrowing scene.
It is also painfully easy to imagine the sense of claustrophobia and fear that would have engulfed the masses of people who were waiting in the tunnels as they saw others clambering up the walls to avoid the crush.
Local authorities are pleading for time for their investigations to provide an explanation as to how the tragedy could have occurred. The mayor of Duisburg warned people today not to "point fingers" prematurely.
One thing we know for certain is that the Love Parade will never be held again out of respect for the victims.
But that will make little difference in Duisburg, a town in shock, trying to understand how a celebration of youth culture ended with so many dead.