Sarkozy condemns killing of hostage Michel Germaneau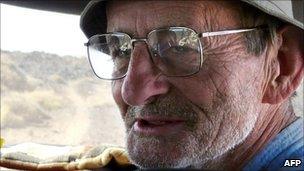 French President Nicolas Sarkozy has confirmed the death of a French hostage killed by suspected al-Qaeda militants in north-west Africa.
Mr Sarkozy condemned the killing of 78-year-old Michel Germaneau as "odious", saying it would not go unpunished.
The leader of al-Qaeda in the Islamic Maghreb (AQIM) had earlier said Mr Germaneau was killed in revenge for a failed rescue raid in Mali.
France said last week it gave logistical support for the raid.
"I condemn this barbarous act, this odious act, which has claimed an innocent victim who devoted his time to helping local people," Mr Sarkozy said.
"Far from weakening our determination, his death must reinforce it," he added.
He also urged French people not to travel to the Sahel region that includes parts of Mali, Mauritania, Niger and Algeria.
Mr Germaneau was kidnapped in Niger in April. A retired engineer, he was in the region as a volunteer aid worker.
AQIM leader Abdelmalek Droukdel said in a statement broadcast by al-Jazeera that Mr Germaneau had been killed in revenge for a raid in which six militants died.
In a statement issued following Thursday's raid, the French defence ministry said al-Qaeda in the Islamic Maghreb had "refused to give a proof of life or engage in negotiations to release our compatriot Michel Germaneau".
Mr Sarkozy said: "Convinced that he was condemned to a certain death, it was our duty to try to save him from his captors. Unfortunately Michel Germaneau was not there."
He did not say where or when the hostage had been killed.
The French defence ministry said last week that it had provided logistical and technical support to Mauritanian forces carrying out the raid in northern Mali.
It also said the operation had "neutralised" a group of suspected militants and prevented a planned attack against Mauritanian targets.
AQIM was founded by Islamist militants in Algeria. In recent years it has been increasingly active in the Sahara desert.
Last year, the group said it had executed the British hostage, Edwin Dyer, and it is still thought to be holding two Spanish aid workers, Roque Pascual and Albert Vilalta, who were seized in Mauritania in November.
Related Internet Links
The BBC is not responsible for the content of external sites.