Fog from peat fires blankets Moscow amid heat wave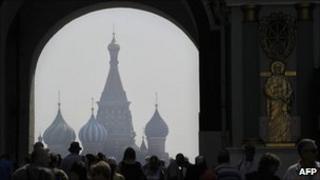 An acrid fog from forest and peat fires has blanketed Moscow, as the Russian capital swelters in a record heat wave.
Firefighters were trying to douse 60 fires covering 59 hectares (145 acres) in the countryside outside Moscow on Monday, the emergencies ministry said.
People with bronchial problems were advised to stay indoors as the level of toxic particles in the air rose five to eight times above the norm.
Flights were unaffected, but the smog shrouded landmarks like the Kremlin.
Doctors say Muscovites should keep their windows closed and wear gauze masks to avoid inhaling ash particles.
Areas to the east and south-east of Moscow are reported to be worst affected.
Water-bombing planes are being used to tackle the fires just beyond the city.
Temperatures in Moscow have risen above 35C in the most intense heat wave to grip the city since 1981.
Read a selection of comments from Russia: