Chechen children in Russia holiday camp brawl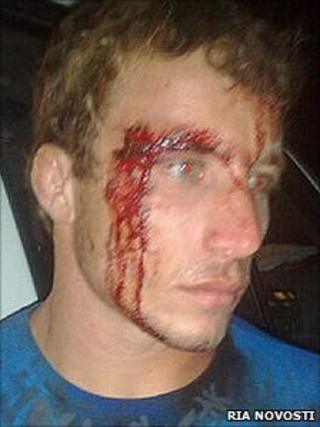 Seven people have been arrested after a mass brawl in a Russian holiday camp involving a group of Chechen children.
Several people were taken to hospital after the fight on Sunday in the Don summer camp in Tuapse, Krasnodar.
The victims include the camp's deputy director, a local resident and a number of Chechen children.
Chechen President Ramzan Kadyrov has sent eight buses to evacuate more than 400 Chechen teenagers who are on holiday at the seaside camp.
'Mass beating'
There are conflicting accounts of who started the fight, how many were injured, and by whom.
The Russian news agency Itar-Tass says 12 people were seriously hurt, including nine holidaymakers and the camp's deputy director, Boris Usoltsev.
They report that the fight began when Mr Usoltsev attempted to intervene in a quarrel between three Chechen teenagers and a young girl from Rostov.
But Chechnya's President Ramzan Kadyrov issued a statement blaming Mr Usoltsev and a gang of local residents for the violence, which he described as a "pogrom".
"I was informed that school children from Chechnya were beaten in Tuapse," he said in a statement.
"Seven teenagers were hospitalised with skull and brain traumas and broken limbs. Analysis of the reports leads us to conclude that the mass beating of children at the Don health camp was directly or indirectly facilitated by persons of authority of that establishment."
Mr Kadyrov accused Mr Usoltsev of starting the brawl, alleging that he was intoxicated.
"Caretakers say he made nationalist statements. After a while, the director of the camp, his father, brought in a large crowd of local boys, who committed the pogrom. The children sustained major traumas," said Mr Kadyrov.
"The majority of the children were saved thanks to the decisive efforts of caretakers from Rostov, Omsk, and Chuvashia, who hid them among their own campers. Buses have now been sent to Tuapse to bring the children home early."
'Unidentified hooligans'
However the news agency Itar-Tass says the fight began when three Chechen teenagers "stirred up a quarrel" with a young girl from Rostov.
"The conflict emerged after the camp deputy director reprimanded the three teenagers," they report, quoting a source in the Russian prosecutor general's office.
"The teenagers did not react to the demands made to stop the quarrel.
"A Chechen adult who was accompanying the teenagers also did not stop the actions of the young people. Instead he, together with the three teenagers, started beating up the deputy director."
Later, a group of "unidentified hooligans" arrived at the camp and engaged in a fight with the Chechen teenagers, according to Itar-Tass.
BBCRussian.com reports that seven local residents have been arrested following the incident and a charge of hooliganism has been filed by the prosecutor general in Krasnodar.