French detectives put on leave after death threats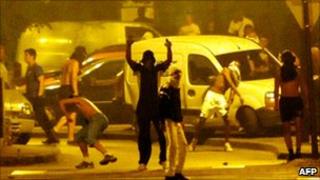 Almost an entire detective squad in the French city of Grenoble has been put on leave after officers received death threats from underworld figures.
Three officers involved in the fatal shooting of a local man earlier this month have been moved out of the unit.
Another 20 were told to spend time with their families after the threats.
French President Nicolas Sarkozy vowed to wage war on the criminals after the threats, which follow rioting in the city over the shooting.
In the past week there have been running battles in Grenoble between police and rioters, following the fatal shooting earlier this month of 27-year-old Karim Boudouda.
Machine guns found
Boudouda was one of two men suspected of holding up a casino at Uriage-les-Bains, near Grenoble, whom police were pursuing early on 16 July.
Police said they were shot at, and that they opened fire in self defence after one of the men, Boudouda, turned on them with a semi-automatic weapon. He was killed in the exchange of gunfire.
Rioting erupted in Grenoble after a memorial service for Boudouda, a convicted robber, and since then local gangs have vowed to avenge his death.
In one raid on a local bar in the working class suburb of Villeneuve, police found sub-machine guns and pistols.
Reinforcements have been brought in from outside forces, but it has emerged that 23 members of a unit of 30 officers have been told to stay at home. Three of them have already transferred from the squad.
The local police chief said his force was hunting those who issued the death threats, but in the meantime he is taking every precaution.
Last week, Mr Sarkozy fired the district police chief in response to the violence, and promised retribution for criminals who torched shops and cars.
The representative of the local police union, Daniel Chomette, said the gangs were capable of anything.
"These threats are credible and have been confirmed by intelligence we have received. There are contracts on the heads of some officers," Mr Chomette was quoted as saying by Reuters news agency.
No-one was injured on the night of the riots, but among some 20 people arrested were four men who were shooting live rounds at officers.
Riots like those in Grenoble are always reason for concern in France, and the government is wary that unrest could spread to other city suburbs as it did during the Paris riots in October 2005.