Hackers deface Buchenwald camp memorial website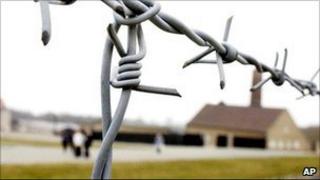 Neo-Nazis have hacked into the memorial website of Germany's Buchenwald concentration camp, defacing it with fascist slogans and symbols.
The hackers defaced a "Book of the Dead" commemorating victims of the camp and completely removed the web pages for the nearby Mittelbau-Dora camp.
Volkhard Knigge, of the Buchenwald memorial foundation, said the attack had been reported to the police.
The website was later partially restored.
Slogans included "Brown is beautiful" in English, referring to the colour of Nazi stormtroopers' shirts. "We will return," threatened another in German.
Mr Knigge said in a statement that the hackers were "trying to efface the memory of the victims of the crimes of the Nazis".
Nearly a quarter of a million people - many of them Jews - were forced to work in arms factories in Buchenwald, near Weimar, eastern Germany, between 1937 and 1945.
Those incarcerated also included Roma, homosexuals, the disabled, Jehovah's Witnesses and political opponents of the Nazi regime from all over Nazi-occupied Europe.
An estimated 56,000 died of exhaustion, starvation or illness or were executed.
The camp at nearby Mittelbau-Dora also provided forced labour for a Nazi weapons factory. It is believed that about 20,000 of the 60,000 prisoners held there died.