Catalonia's bullfight ban provokes emotional response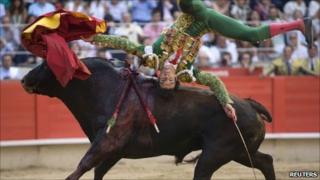 The Catalan parliament voted to ban bullfighting in an emotional session packed full of deputies, activists and observers, says the BBC's Sarah Rainsford in Barcelona.
In the end the vote passed by an absolute majority - a wider margin of victory than animal rights campaigners had dared hope for.
Sixty-eight deputies voted in favour of the ban; 55 were opposed.
"We had three different speeches prepared, and in the end we could read out the one for a big victory," laughed Jordi Casamitjana, who was heavily involved in pushing for this vote.
He admits he had expected a closer call.
"It means the politicians here actually get it. Bullfighting has no place in the 21st Century. I could not hold back my tears," he said.
He was not the only one. As the result was announced, those supporting the ban leapt and shouted for joy. Alongside them, some of the losers cried too - in frustration.
But activists collected 180,000 signatures in order to get this initiative off the ground and into parliament - and they were determined to enjoy the moment.
"I'm over the moon!" enthused Deborah Parris, who worked with the campaign group Prou (Enough, in Catalan), to ban the corrida, as the bullfight is known.
"There is incredible suffering in a bullfight. Six bulls are killed each time, not one, and they are tortured for 20 minutes," she said. "It's not right to pay money to go and watch that kind of cruelty."
Waning popularity
During the debate, deputies in parliament heard very different views - as parties that back bullfighting described an age-old tradition and an art form that must be preserved.
They also argued against a formal ban on principle, saying individuals should be left to decide whether to attend a corrida.
There were warnings too, about the economic impact of stopping the fights, both in lost ticket sales and compensation for those who depend on bullfighting for their livelihood. That amount will be decided, in the coming months.
The bullfighting lobby failed to convince though, and the bloodsport will now be banned throughout Catalonia from January 2012.
The practice has been waning in popularity here for many years.
A mixture of animal rights activism, a ban on child attendance and politics has left ring owners struggling to fill seats.
There is just one active bullring now in Barcelona, and an average of 15 fights each year.
Madrid stages eight times that number. Many of the spectators are tourists.
Political agenda?
Although the corrida has deep roots in Catalonia, nationalists here now see it as a "Spanish" fiesta.
"They are trying to get independence and they think if they highlight differences it will help," said Albert Rivera, a deputy with the "mixed group" in parliament who voted to keep bullfighting alive.
"They don't like reminders of how much we share."
Those backing the ban deny any direct link between this vote and wider political goals.
But many Spaniards have wondered whether it is at least partly an act of revenge for a deeply unpopular ruling by the constitutional court.
Earlier this month, the court in Madrid struck down part of Catalonia's statute of autonomy, including its right to label itself as a nation. The decision sparked an enormous protest.
But the groups who brought the corrida issue to parliament insist it is all about progress: banning a barbaric practice, for good.
"It's like the ban on fox hunting in the UK," said Jordi Casamitjana.
"Society has evolved and that's all about losing bad things. Fortunately, Catalan politicians have seen they need to evolve too, so they don't remain relics - like these traditions."
Buoyed by their victory, activists have vowed to help extend the ban across the country.
But they know they will face far stiffer opposition in the bullfighting heartlands of southern Spain and Madrid.
In the capital, a petition calling for a vote on banning bullfights there has collected more than 50,000 signatures of support.
In response, the regional government has declared the corrida protected, part of Madrid's cultural heritage.