Details emerge in French baby killing case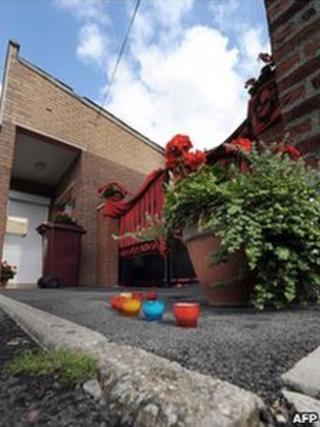 Details have emerged of the woman detained in France over one of biggest infanticide cases in the country's recent history.
People who know Dominique Cottrez, a nursing assistant, say she is a woman with a weight problem who played little part in the life of her village near Lille, Villers-au-Tertre.
Her husband, Pierre-Marie Cottrez, is a carpenter who, by contrast, has sat on the village council for years. He is a "decent, well-meaning type", according to Mayor Patrick Mercier.
The couple, in their 40s, have two grown-up children, both daughters now in their 20s, with children of their own.
Before news of their arrest, it was the common view that the Cottrez couple were "des gens sans histoire", or "quiet people".
Mrs Cottrez has now confessed to killing eight of her own newborn babies, apparently because of memories of difficulties during her first pregnancy.
Her husband was initially detained on suspicion of failing to report the crimes but was later released without charge.
'Would not hurt a fly'
When the people of Villers-au-Tertre, population 655, saw police teams descending on their village some thought an alarm must have been raised over "something left over from the war".
The village serves commuters for towns like Douai and Cambrai in the Nord region and is described by one of them as a "quiet, peaceful" place set deep in the countryside.
Mrs Cottrez was born and educated in the village, local newspaper La Voix du Nord reports. Her two grown daughters still live locally, French media say.
It was at a house on Rue de Fressain which once belonged to her parents that two baby skeletons were found, when the new owners were digging up their garden to put in a pool.
Police traced the find back to the Cottrez couple, who had sold the property, and the mother confessed to having suffocated eight of her own babies.
The remains of the other six were found at the couple's current address on Sentier du Pre, inside plastic bags which had been placed in a fuel storage tank.
This property, where the couple had been living for the past 17 years, is described by La Voix du Nord as a modern-looking, detached house.
Mayor Mercier says the mother rarely ventured out of it. Her weight problem, he told AFP news agency, may have accounted for the fact that her pregnancies had passed unnoticed.
One unnamed neighbour described the mother as a "shy" person who was "very fat" while a teenage girl who knows the two daughters said their mother was a "discreet, simple woman who would not hurt a fly".
'Difficult first birth'
Mrs Cottrez, who faces life imprisonment, insisted her husband had known nothing about either the pregnancies or the killings, an official close to the investigation told AFP.
"She explains that she did not want any more children and that she did not want to see a doctor about methods of contraception," a spokesman for prosecutors told reporters.
Her first delivery had been "difficult because of her large body weight and for that reason she did not want to see a doctor".
As villagers continued to voice their astonishment at the crimes uncovered, local priest Father Robert Meignotte spoke of his horror.
"I'm thinking of all the children [in the world] who didn't ask to be born and were thrown out a few hours later," he said.
"I'm very upset. I baptise five children every Sunday in the 17 villages of the parish. You don't just throw children out like that... It's incomprehensible."
Multiple infanticide cases
The phenomenon of multiple infanticide is nothing new in modern France, where at least a dozen cases have come to light since 1984, according to AFP.
In March of this year, a mother confessed to killing six of her newborn children over eight years and hiding them in the cellar of her house in Valognes, north-west France.
In 1984 a couple in Correze, central France, were jailed for killing seven of their newborn infants over a period of seven years.
And the French newspaper La Depeche mentions a trial in the 1970s when a farming couple in the Nord region were convicted of killing nine babies.
"At the time, there was talk of a method of spontaneous contraception," court psychiatrist Dr Daniel Ajzenberg told the paper.
Experts say infanticide cases often involve "denial of pregnancy", when women refuse to accept they are pregnant.
About 500 such cases are recorded each year around the world, Professor Israel Nisand of the University Hospital in Strasbourg told Reuters news agency.
One of the most notorious cases was in Germany in 2006, when a mother was sentenced to 15 years in prison for the manslaughter of eight of her newborn babies. A ninth baby had also died but too much time had lapsed to allow a prosecution.
Dominique Cottrez did not cite denial of pregnancy as a motive in her case, French prosecutors said.