Greece haulier strike: Your experiences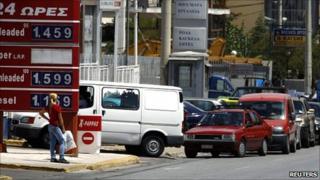 Greek police have clashed with hundreds of lorry drivers protesting in Athens.
The hauliers are refusing to obey an emergency government order for them to end a crippling strike.
The strike, which is now in its fourth day, has paralysed the country, depriving petrol stations of fuel and prompting many tourists to cancel holidays.
Here, readers in Greece describe how they are being affected by the knock-on effects of the latest industrial action.
Rachel Everest, Kefalonia
Here on Kefalonia, petrol stations began to run out of fuel on Monday. They are all now closed.
There is a little diesel still available but the cost is astronomical.
This is now affecting deliveries to shops and supermarkets and shelves are getting empty.
It will not be long before we have nothing left.
We are relatively lucky as Kefalonia is quite a large island, but we are all being held hostage by these short-sighted drivers.
This is now affecting tourism, Greece's main income, and ours - my husband is a travel rep.
Tourists are coming out here not knowing that this is going on, and are now unable to get around. Soon buses and taxis will also be affected.
There is also a rumour that ferries could stop running, which would be disastrous for the islands.
Greg Stavros, Athens
I think the situation is totally unacceptable.
I'm sick of being held hostage every time some union decides that its members are being mistreated, especially when they have been earning huge amounts of money in the last few decades.
This strike has once again benefited the petrol station owners who sold all their stock at inflated prices.
The country is suffering as it is and instead of moving forward, some people are trying to damage it even further.
They are causing suffering to people who are already in dire straights.
Kevin Neilson, Athens
It has been very difficult during the first two days of the strike as the usual Greek panic response kicked in.
Now, however, some supplies are getting through and the number of cars waiting outside petrol stations has decreased some what.
I passed a petrol station near my office in the northern suburbs of Athens which opened after two days and is now selling fuel with no limit on how much each person can buy.
As for the next few days we have to wait and see how effective the emergency measures will be.
Amanda Booth, Lefkada
My partner and I run a small yacht charter company on Lefkada island in the Ionian Sea.
I am sure the striking drivers do not realise how many people they are inconveniencing. If the strike is prolonged and the diesel runs out, the charter companies (and there are many in this area) cannot refuel the yachts.
This will affect tourism, maybe not this year, but in future years when people will choose to go elsewhere to sail.
This in turn will affect all the tavernas, cafes, tourist shops, and mini markets that rely on tourism to survive.
If tourists are affected by fuel shortages, they are not going to gain a good impression of Greece.
So much for the love of foreigners - and their money.