'Hijack' foiled at Moscow airport - Russian officials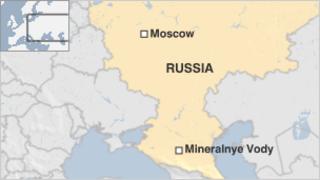 Russian security forces at Moscow's Domodedovo airport have arrested a man suspected of trying to hijack a plane.
Russian media report that the man behaved in a threatening way before the airliner landed. The flight originated in the North Caucasus.
All the passengers were freed safely after special forces disguised as doctors boarded the plane.
The arrested man is from the city of Mineralnye Vody in the North Caucasus, Russian news agency Tass said.
Airport spokeswoman Yelena Galanova said the man had told the captain he had "information valuable for the interior agencies".
"After the information was received, a decision was taken to taxi the plane... to an emergency apron of the airport," she said.