Serbia seeks support for UN draft resolution on Kosovo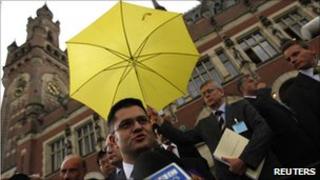 Serbia is seeking support for a UN resolution which it says will prevent separatist movements from following the example of Kosovo, which unilaterally declared independence from Serbia.
Last week the UN's highest court ruled that Kosovo's secession declaration in 2008 did not violate international law.
Kosovo says the resolution - which says unilateral secession should not be a way of resolving territorial disputes - is "disastrous".
Serbia rejects Kosovo's independence.
Serbia's Foreign Minister Vuk Jeremic met UN Secretary General Ban Ki-moon on Thursday to discuss the draft resolution, which says unilateral secession should not be a way of resolving territorial disputes.
Sixty-nine countries - including the United States, the UK and a further 21 of the EU's 27 member states - have so far recognised the majority ethnic Albanian Kosovo as an independent state.
'Pandora's box'
"It is dozens of countries that have promised me personally... that they will recognize Kosovo after the ICJ (International Court of Justice) ruling," Kosovo's Foreign Minister Skender Hyseni told reporters at the UN in New York.
However, he declined to give any examples, so as not to intensify counter-lobbying by the Serbians, he said.
The draft resolution calls on the UN to find a mutually acceptable solution to Kosovo's future.
The resolution is the best way to close a Pandora's box, Mr Jeremic said, pressing Serbia's argument that the Court ruling could set a precedent for other separatist movements.
Mr Jeremic is seeking backing from countries - including Russia, China and Spain - which do not recognise Kosovo's independence.
However, he said winning that approval will be difficult.
Mr Hyseni called the resolution disastrous and, like his Western supporters, insisted that Kosovo was a special case.
He urged Serbia to accept reality and work with Pristina towards a common future as members of the European Union.