Berlusconi plays down party split over Fini 'dissent'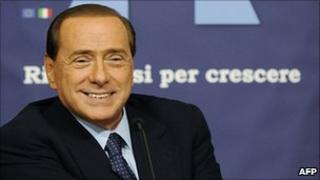 Italy's PM Silvio Berlusconi insists that his ruling right-wing coalition will survive despite a split with his party's co-founder, Gianfranco Fini.
Mr Fini has refused calls by Mr Berlusconi and his allies in the People of Freedom Party (PDL) to step down as speaker of the lower house of parliament. They accuse him of dissent.
Some MPs loyal to Mr Fini said they no longer saw themselves as PDL members.
"There is no risk," Mr Berlusconi said, "we have a majority".
Mr Fini has clashed with Mr Berlusconi over morality and legality in politics.
Mr Fini said politicians implicated in court cases should resign and he also helped force Mr Berlusconi to water down a bill that sought to restrict press reporting of wiretap transcripts in judicial investigations.
Mr Berlusconi has been put on trial repeatedly for a variety of corruption charges. He has always denied wrongdoing and has always been cleared.
The clash with Mr Fini has fuelled speculation that Mr Berlusconi's government could collapse before its term ends in 2013.
Mr Fini refused to leave his post as speaker on Thursday, saying it was not up to Mr Berlusconi to force him out.
On Friday, Mr Fini confirmed in a news conference that he would not leave his post.
He described the split as an "ugly chapter for the centre-right and Italian politics".
The PDL was founded in March 2009, when Mr Berlusconi's Forza Italia merged with Mr Fini's "post-Fascist" National Alliance. Now the PDL governs with a smaller right-wing ally, the Northern League.
Mr Fini, reckoned to command the support of about 50 MPs, used to be politically close to the ideology of Italy's wartime Fascist dictator Benito Mussolini.
But in the past decade he has shifted towards the mainstream of Italian politics and distanced himself from Mussolini's policies.