Greek lorry drivers defy emergency strike order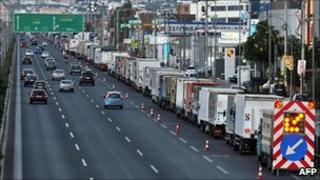 Lorry drivers in Greece have defied an emergency order imposed by the government to end their strike, as the country's fuel shortage worsens.
Prime Minister George Papandreou signed a rare order on Thursday, allowing drivers who refused to work to be arrested or lose their licenses.
Talks between the two sides continued as the strike went in Athens went into its fifth day.
The strike has depleted fuel stations and led tourists to cancel holidays.
On Thursday, riot police clashed with about 500 protesters outside the transport ministry in Athens.
The back-to-work order was imposed on Wednesday at 1630 GMT after negotiations between the government and the drivers broke down. The hauliers were given 24 hours to comply to the measure.
'Reforms'
As the strike extended, Greek newspapers on Friday offered headlines including, "Slow torture, marathon negotiations" and "The strike develops into a thriller".
Dimitris Makrivelios, a member of Greece's petrol station owners union, said he hoped the strike would ease off by the end of the day.
"I think that today is a day that new developments will occur," he told Reuters.
"The information we have so far is that company-owned private licensed trucks have been loaded in order to supply with fuel all the gas stations that are unfortunately facing problems".
Lorry drivers are protesting against plans to cut licence charges, part of reforms to liberalise the sector and one of the conditions of an International Monetary Fund bail-out.
Unions argue that the charges are well below the start-up fees of up to 300,000 euros (£250,000) that existing operators had to pay.