Tests after suspect package found at US Paris embassy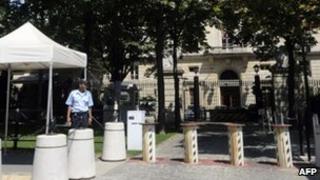 Two employees at the US embassy in France have been taken for medical check-ups after a suspect package was identified in the building's post room.
The state department has said initial tests indicated the package was not harmful.
The two employees were given medical attention after coming into contact with the package, a statement said.
"We have no indication that anyone is in danger or hurt," embassy spokesman Paul Patin told reporters in Paris.
The French police are investigating the incident, he added.
'Medical attention'
"Preliminary results indicate that the envelope was not harmful," a statement from the state department said.
"I can confirm that there was a letter in the mail room that was deemed suspicious by the handlers. The employees were taken to medical personnel for attention," Mr Patin said outside the embassy.
The envelope was taken to be examined at a laboratory.
The embassy, which is located near the Champs-Elysees, has remained open.