Greek military mobilised to supply fuel amid strike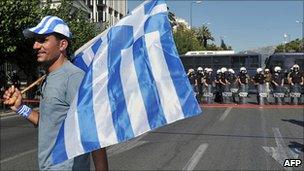 Greece is to mobilise military vehicles to restore fuel supplies cut by a lorry drivers' strike, officials have said.
Army lorries and naval vessels will ensure the supply of fuel to "critical sectors", the government said after a crisis cabinet meeting.
Earlier, lorry drivers defied an emergency order from the government to end their strike.
The stoppage, now in its fifth day, has led to widespread fuel shortages and caused tourists to cancel holidays.
"The armed forces with their own means are already assuring the supply of critical sectors such as airports, electricity plants and hospitals," a government statement said.
"Navy landing craft will also contribute if necessary to cover the needs of islands by transporting tanker trucks."
On Friday, baton-wielding riot police clashed with strikers outside an oil refinery in the city of Thessaloniki.
The strikers were trying to stop a truck from leaving the refinery, Reuters news agency reported.
"We exhausted every limit of good faith," said Transport Minister Dimitris Reppas following the cabinet meeting.
"The state is not unfortified and society is not defenceless," he added.
But strike leaders remained defiant.
"We will continue [the strike] in dynamic fashion," said George Tzortzatos, the head of the Greek truck-owners' confederation, following a union meeting.
The BBC's Malcolm Brabant in Athens says the strike has been the most serious challenge to the government during Greece's eight-month financial crisis.
The tourist industry - critical to Greece's economic survival - has been in despair and the strike has triggered countless cancellations, he says.
Hoteliers across the mainland have been worst hit, because they rely on holidaymakers driving to their destinations, he adds.
On Thursday, riot police clashed with protesters outside the transport ministry in Athens.
The rare emergency order signed by Prime Minister George Papandreou on Thursday meant drivers who refused to work could be arrested or lose their licences.
Talks between the two sides continued on Friday.
Lorry drivers are protesting against plans to cut licence charges - part of reforms to boost competition and one of the conditions of an International Monetary Fund bail-out.
Correspondents say road freight is one of the most closed professions in Greece with no new licences issued for nearly 40 years. Instead, licences are sold from person to person for hundreds of thousands of euros.
Greece has suffered waves of strikes and protests over austerity measures the government had to agree to in order to win the bail-out.
Comments from UK holiday-makers in Greece