Russia mobilises 240,000 to fight deadly wildfires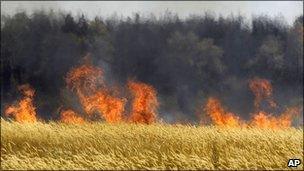 Almost 240,000 people have been mobilised across Russia to tackle wildfires that have killed at least 30 people, officials say.
The military has pooled resources with firefighters; the emergencies ministry said 25,000 engines were being used.
But with temperatures forecast to hit 40C (104F) in some areas, the ministry has warned more fires are likely.
Several villages and swathes of forest have been destroyed, but officials say they are now on top of the situation.
"The fire situation in Russia is under control," the ministry said in a statement.
Firefighters are currently battling blazes in 14 of Russia's 83 regions, and many thousands of people have been forced to evacuate their homes.
Internet users across the country had been complaining bitterly on forums that the firefighting effort had concentrated on Moscow at the expense of other regions.
Prime Minister Vladimir Putin on Friday visited a Volga village where all 341 homes were destroyed by flames, leaving 500 people homeless.
He told distressed residents of Verkhnyaya Vereya that the village would be rebuilt before winter.
"You are not being forgotten," he said, promising 200,000 roubles (£4,200) in compensation for each person affected.
"All the houses will be built by winter," he added. "I promise you that the village will be restored."
The government has earmarked 25bn roubles for the national emergency effort.
It is estimated that a fifth of Russia's wheat crop has now died due to the lack of rain in what is thought to be the country's worst drought for more than a century.
Temperatures reached a record 39C (102F) in the capital on Thursday, with health experts warning of pollution levels 10 times higher than normal safety limits due to the thick pall of smoke from nearby wildfires.
Hundreds of people have drowned over the past two months in an attempt to cool off in the record heat, with 170 such deaths recorded in Moscow alone, medical sources told Interfax news agency.
The high toll has been partly blamed on drunkenness and the use of poorly equipped beaches.
Related Internet Links
The BBC is not responsible for the content of external sites.