Russia faces new wildfire threat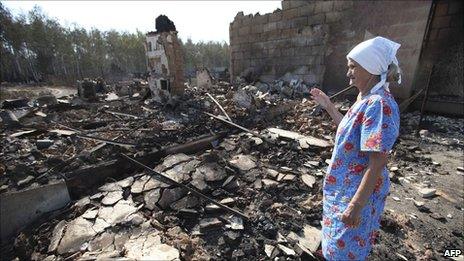 Forecasts of up to 40C (104F) for central and southern Russia next week are piling on pressure as the country battles its worst wildfires in decades.
Firefighters reduced the nationwide area on fire from 129,000 ha (319,000 acres) to 114,000 ha (282,000 acres) on Saturday, the government said.
But more new fires erupted than were extinguished, and 438 were still burning on Sunday.
Thousands of people have lost their homes and this week saw 28 deaths.
Nearly a quarter of a million emergency workers have been deployed to fight the flames with the help of hundreds of soldiers.
President Dmitry Medvedev described the situation on Saturday as a "natural disaster of the kind that probably only happens every 30 or 40 years".
More famous for its bitterly cold winters, the giant country's European part normally enjoys short, warm summers. The number of fires recorded this year is only about 20% higher than in 2009, according to Russian emergencies ministry data.
However, this July was the hottest month on record, with Moscow, which sees an average high of 23C in the summer months, sweltering in 37.8C heat last Thursday.
"The threat of new fires has increased sharply due to unfavourable weather in a number of regions in the Central and Volga federal districts, with temperatures soaring to up to 40C and winds of up to 20 metres per second," the emergencies ministry said.
On Saturday, 369 new fires were registered while 338 were extinguished.
To date, 10 different Russian regions have been affected with 1,257 homes destroyed and 5,200 people evacuated, the emergencies ministry said.
Worst hit were the regions of Voronezh, Ryazan, Vladimir, Ivanovo, Moscow, Mordovia (capital: Saransk), Nizhny Novgorod and Tatarstan (capital: Kazan).
"There has never been a fire like this," firefighter Maxim Korolyov told AFP news agency in the village of Maslovka, Voronezh, where reportedly all but five of 150 houses burnt down on Friday.
"It's the first time I have had to fight a fire of this size."
Elderly resident Vera Sakharova complained that firefighters had come too late.
"We did not have any help," she told AFP. "We had to do everything ourselves."
The government is under pressure to rebuild ruined homes in time for winter - a promise Prime Minister Vladimir Putin made to residents of one devastated village in Nizhny Novgorod when he visited on Friday.
Emergency officials say the heat and drought are the main causes of the fires but they also blame human carelessness and urged people to use extreme caution when walking or driving in the woods or countryside.
"Any source of fire, including a cigarette thrown from a car window, will ignite the dried grass," the emergencies ministry said.
Related Internet Links
The BBC is not responsible for the content of external sites.