Royal Marine and UK soldier killed in Afghanistan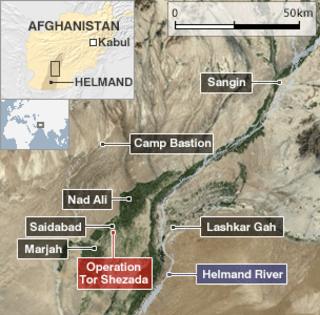 Two UK servicemen have been killed in separate incidents in Afghanistan, the Ministry of Defence has said.
A soldier, from 1st Battalion Scots Guards, was shot dead in the Lashkar Gah district of Helmand on Sunday.
On the same day, a marine from 40 Commando Royal Marines died in an explosion in the Sangin district. Next of kin have been told.
The MoD said neither death was linked to Operation Tor Shezada, which is currently under way in Helmand.
Hundreds of UK troops have been involved in the operation which began on Friday, and is aimed at removing insurgents from around the town of Saidabad.
The latest two casualties take the total number of UK deaths in Afghanistan since 2001 to 327.
'Selfless courage'
Lt Col David Southall, spokesman for Task Force Helmand, paid tribute to the two men.
"It is with great sadness I inform you that a soldier from 1st Battalion Scots Guards was killed in Lashkar Gah district of Helmand province yesterday afternoon," he said.
"Commanding his men, he was killed in action by small-arms fire whilst providing security to the Afghan people. His selfless courage and sacrifice in the course of his duty will not be forgotten.
"In a separate incident, a marine from 40 Commando Royal Marines was killed in Sangin, Helmand province, yesterday afternoon. Deployed within a foot patrol providing local security to the people in the district, he died in an explosion.
"He gave his life whilst seeking to improve the lives of ordinary Afghans. His sacrifice will not be forgotten."
Operation Tor Shezada, which translates as "black prince", is being led by 1st Battalion The Duke of Lancaster's Regiment.
Commanding officer Col Frazer Lawrence told BBC Radio 4's Today programme that the mission was going "extremely well".
He said the town of Saidabad was the last remaining "foothold the insurgents have in the green zone here" and local people were "desperate" to be rid of them.
"There are 15 population centres within this area and 14 of them are under government control. Saidabad is the last one that isn't and therefore it was something that needed to be dealt with.
"The plan is really to clear and hold it - to provide a security bubble with our Afghan partners to allow reconstruction and development, and [allow] the governance side to actually get down there and take hold."
Col Lawrence said the resistance offered by Taliban insurgents was less than had been expected so far, because some had fled the area and others had downed their weapons, at least temporarily, in order to blend in with the rest of the population.
On Saturday, the MoD announced that British troops had discovered a cache of bomb-making equipment in Saidabad.