Italy on the brink of new nuclear era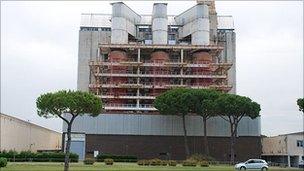 From fall guy to renaissance man, the nuclear power industry is fashionable again - at least judging by the worldwide expansion programme it is now undergoing.
More than 400 reactors are operating in 31 countries, with about 50 under construction at the moment.
Climate change, a desire to become more energy independent, the passage of time since the Chernobyl and Three Mile Island disasters, even oil spills in the Gulf of Mexico, have all combined to make nuclear energy more attractive - or at least less objectionable.
Nowhere is that more true than in Italy, which is currently the only G8 nation without a single nuclear power station of its own.
If Prime Minister Silvio Berlusconi gets his way, that will soon change.
From zero to eight is his plan - the aim to generate 25% of the country's electricity by 2030.
After years of treating it as the pariah of power sources, other countries are also picking up the nuclear baton.
The US, China, Russia, India and the UK are all racing to re-start or expand their nuclear industries.
Sweden has just, narrowly, reversed its 30-year ban on new reactors.
Italy once had four nuclear power plants.
But the Chernobyl disaster, in April 1986, put an end to them.
A year after the accident, the country held a referendum and 80% of Italians voted to reject nuclear power.
For nearly a quarter of a century Italy turned its back on the industry and has relied instead on other sources of energy.
One Italian minister recently said the nuclear phase-out was a "terrible mistake" that cost the economy 50bn euros (£41bn; $65bn) in import costs and more expensive electricity bills.
"Now we have no choice but to return to nuclear power," says Francesco de Falco, from Enel, Italy's biggest generator of electricity.
"No other source of energy can provide what nuclear can," he says.
At the moment, 54% of Italy's electricity comes from gas, much of it imported from Russia and Libya.
The government believes that makes the country vulnerable to the taps being switched off.
It also says it has international obligations to cut greenhouse gases, so fossil fuel-generated power such as coal has to be reduced.
In Italy, 10% of the country's electricity does come from nuclear plants, but it is all imported from countries like France and Switzerland.
"This mix has to change," says Stefano Saglia, a minister in the government's department for economic development.
"Nuclear is the only option that can provide the quantities of electricity needed at a competitive price."
Mr Saglia says he is a great supporter of alternative renewable energy sources like wind and solar - wind supplies about 3% of Italy's needs.
But Mr Saglia says nuclear is the only realistic option for an economy the size of Italy's.
The government has side-stepped the result of the 1987 referendum by passing new laws to re-establish the nuclear industry.
And most opinion polls appear to show the public is behind the change of direction.
"I don't mind nuclear power stations," said one woman interviewed near the site of the former Latina nuclear power station south of Rome.
"It provides jobs and we need the electricity," she said.
But others near the plant are not as enthusiastic.
"These places are dangerous and we have already voted once to get rid of nuclear power," said one man.
The nuclear industry now claims that safety standards have improved greatly since the Chernobyl incident and the Three Mile Island partial-meltdown in March 1979.
"There is no comparison," says Francesco De Falco from Enel.
"New designs of nuclear power stations are simpler and therefore safer and recycling waste is now much more efficient," he says.
But not everyone agrees with that, or with the economics behind a full-scale return to nuclear power.
Greenpeace is one pressure group calling into question the world-wide resurgence of the industry.
In Italy it has been mounting a series of stunts including draping vast flags across public buildings with slogans that speak of "nuclear madness".
"The government is on a propaganda drive to convince everyone nuclear is the only option", says Andrea Lepore, from Greenpeace Italy.
"The alternatives like solar, wind and wave power don't get the same investment. Going nuclear is a dangerous decision that we will regret," he says.
Political parties at national level are largely in favour of resuming nuclear generation.
The Greens and the far-left - who might have offered a stiffer challenge - were eliminated in the 2008 general election, so resistance now is mostly confined to the local level.
Just like elsewhere, there is a vocal "nimby" (not in my back yard) feeling in some communities where people believe they will be the location for one of the eight planned power stations.
Mr Berlusconi will have to take that into account, but it is unlikely to derail his plans to press ahead with preparations to reveal the sites of the new plants in the next few months.
It looks like Italy may be one of the countries going back to the future in a big way with a return to nuclear energy.
Related Internet Links
The BBC is not responsible for the content of external sites.