Siberia plane crash kills 11 people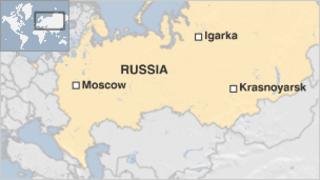 Eleven people were killed and four injured when a passenger plane crashed while trying to land in northern Siberia, Russian officials say.
The Antonov-24 twin turboprop came down on Monday in fog near the airport at Igarka, in the Arctic Circle.
Three crew members and a passenger survived, but the passenger is reported to be critically ill.
It is not yet clear why the crash happened. Ten passengers and a crew member died.
The plane belonging to the Katekavia airline was flying from Krasnoyarsk to Igarka and crashed 700m from the runway, Irina Andrianova of the emergencies ministry said.
Rescue workers are looking for the plane's flight recorders and an investigation is under way.