Poland clash over memorial cross for Lech Kaczynski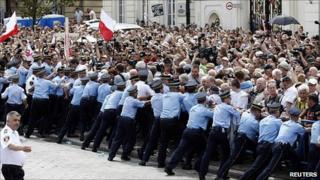 Poland has delayed the planned removal of a cross dedicated to the late President Lech Kaczynski after hundreds of his supporters clashed with police.
Tear gas was used against protesters who tried to knock down barriers set up by police in central Warsaw.
The cross, planted outside the presidential palace in Warsaw, honours Mr Kaczynski, his wife Maria and 94 others who died in April when their jet crashed near Smolensk in Russia.
A nearby church is to house the cross.
Poland's President, Bronislaw Komorowski, has ordered the transfer of the cross to the Church of St Anna. The move was scheduled for Tuesday, but now it is unclear when it will happen.
The decision angered some of Kaczynski's staunchly Catholic, right-wing followers, who felt that moving the cross would be an insult.
The cross was erected outside the palace by scouts after the air crash, but the authorities do not think it should stand outside a secular official building.
A presidential spokesperson, quoted by Polish radio on Tuesday, said the cross would remain where it is for the time being.
Mourners gather around the cross every day and leave flowers and candles there. Some have kept a round-the-clock vigil to prevent the authorities moving it.
Russian crash investigators have not yet transferred documents on the 10 April disaster to Poland, Polish media report.
Poland's Prime Minister Donald Tusk said he was seeking an explanation from Russia about the delay. An international team of aviation experts is analysing the crash in Russia.
The plane carrying Lech Kaczynski and other senior Polish officials was heading for a commemoration of the 1940 Katyn massacre of more than 20,000 Poles by Soviet forces. There was thick fog at the airport at the time.