Russian PM Vladimir Putin answers angry fires blogger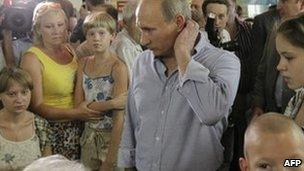 Russian Prime Minister Vladimir Putin has publicly replied to a blistering attack by a blogger on the state's handling of the wildfire epidemic.
The blogger said his village near Moscow had been stripped of basic fire safety resources since Soviet times.
Its three fire ponds had been filled in, the local fire engine had disappeared and even the village fire alarm bell had been removed, he wrote.
Mr Putin said the USSR had never had to cope with a heatwave like that of 2010.
But he added that he agreed in general with the concerns of the anonymous blogger, who writes under the name top_lap.
A commercial Moscow radio station, Ekho Moskvy, had challenged Mr Putin to reply to the blog entry, which it selected as an example of anger among Russians over the state's inability to control the wildfires.
"Nobody will tell you this to your face, of course, but the internet is full of criticism and discontent," the radio station's editor, Alexei Venediktov, said in an e-mail to the prime minister.
Russian internet forums, which allow for genuine public debate in a country where the state dominates the media, have been crackling with anger over the fire-fighting effort.
Top_lap, who says he has a holiday home in a village in Tver province, 153km (95 miles) from Moscow, asked why there were no more forest wardens, who in Soviet times would have raised fire alerts.
The fire bell had been replaced by a telephone which did not work, he said in his blog entry, which is punctuated by obscene swear-words.
"Where is our [tax] money being spent?" he asked.
"Why with every passing year are we hurtling towards a primitive social order?"
In his e-mail back to Ekho Moskvy, Mr Putin said he had read the blogger's words with "great interest and pleasure" while "inhaling the smoke from Moscow's burning woodlands, like all Muscovites".
He said the blogger would receive an alarm bell for his village immediately if he passed on his address.
Updating his blog after Mr Putin's e-mail, top_lap did not comment directly.
Remarking that a lot of people had criticised him for "moaning", he made an impassioned plea for protecting the countryside, accusing Russia's rulers of seeking to destroy it.
Related Internet Links
The BBC is not responsible for the content of external sites.