Berlusconi tested by split with ally
By Aidan Lewis
BBC News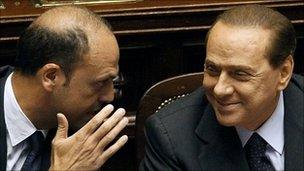 Amid the labyrinthine intrigue of Italian politics, the split between Italian Prime Minister Silvio Berlusconi and his long-standing ally Gianfranco Fini has been seen as a real turning point.
It now seems less likely that the 73-year-old Italian leader will be able serve out his term, which is due to end in 2013.
Mr Berlusconi survived his first test on Wednesday when a motion of no-confidence in a junior government minister failed. Most of the 33 members of parliament who have joined Mr Fini's Future and Freedom for Italy (FLI) movement over the last week were among 75 centrist deputies to abstain from the vote.
But in acting together, the defectors showed that they had the numbers to overturn the majority held by the prime minister's right-leaning coalition.
The left has been celebrating, suggesting this could be the beginning of the end of the Berlusconi era, and some commentators say the Italian leader is now much more vulnerable.
"He has been weakened a lot," said Stefano Folli, a columnist for Italian newspaper Il Sole 24 Ore.
"In September, after the holidays, the government will have a lot of difficulty in parliament, and that suggests this legislature cannot last that much longer."
Mr Berlusconi has seen off many challenges in the past and is still relatively popular among Italians, but Mr Folli said he could still be exposed in an early vote.
"He has been very good at winning elections, and less good at governing.
"He's been on the political scene for a long time - 16 years - and from a political point of view the man is a bit worn out."
It was only in March 2009 that Mr Berlusconi and Mr Fini appeared to have cemented their partnership, co-founding the People of Freedom Party (PDL).
The two had been allies since Mr Berlusconi, a billionaire media mogul, entered politics in 1994.
But Mr Fini, 58, has long been seen as a leading contender to replace Mr Berlusconi as Italy's centre-right leader, and the rivalry between the two played into the split.
"Everybody is really thinking about the post-Berlusconi scenario," said Roberto D'Alimonte, a professor of political science at the University of Florence.
"Berlusconi - regardless of what he thinks - is not immortal.
"So he will go away eventually, and at that point it will be an open field, a new game. I think Fini is positioning himself to be able to play the post-Berlusconi game."
Mr Fini, currently speaker of the Italian parliament, has gradually moved away from his neo-Fascist roots towards the centre, modelling himself on centre-right leaders in other European countries.
"It's a modern right, a more European right, a less populist right - that's his project," said Mr D'Alimonte.
By contrast, Mr Berlusconi considers himself as a "unique phenomenon", and charisma is at the centre of his concept of power, Mr Folli said.
"Berlusconi's priority is having a charismatic relationship with the electorate - he doesn't think as much about institutions."
Mr Fini's recent differences with Mr Berlusconi focused on public morality and justice, as various members of the governing coalition became embroiled in scandals.
"We are trying to have a voice to speak out on what is going on," Luca Barbareschi, who is among the deputies loyal to Mr Fini, told the BBC's Europe Today programme.
"For two years we've been accepting in a very frustrating way a lot of imposition from the top," he added, saying the FLI wanted more of a focus on tackling corruption.
Politicians on both sides have raised the prospect of an early election - most likely next spring. The power to call elections lies with the Italian president, however, not Mr Berlusconi, adding to the uncertainty.
But no-one is counting Mr Berlusconi out. Mr Fini only controls a fairly small faction in the 630-member lower house of parliament, support for him nationally is uncertain, and he may want to hold off a vote while he tries to recruit more backers. Meanwhile, the Italian left is as fragmented as ever.
"Berlusconi is not as weak as it seems, because he can count on the fact that the opposition will continue to support him in order to avoid elections," said Mr D'Alimonte.
"The opposition is in a weak position because they cannot come up with an alternative."
Indeed, Mr Berlusconi could come back stronger if he stands with his remaining and more loyal major ally, the Northern League, and still manages to win.
Related Internet Links
The BBC is not responsible for the content of external sites.