Bronislaw Komorowski sworn in as Poland's president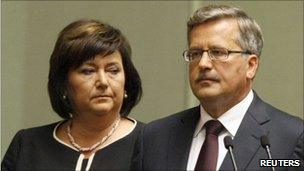 Bronislaw Komorowski has been sworn in as Poland's new president, a month after his election victory.
Mr Komorowski defeated Jaroslaw Kaczynski, the twin brother of the late President Lech Kaczynski, who was killed in a plane crash in April.
In a gesture to Kaczynski supporters, he vowed to work for national unity.
His first foreign visits would be to Brussels, Paris and Berlin in order to "show Poland's European roots", the new, strongly pro-EU leader said.
But he also spoke of the importance of good relations with Russia, Poland's historic rival, which had impressed many Poles with its sensitive handling of the aftermath of the air crash on its territory.
"There will be no stable development of this part of Europe without co-operation with Russia," he said.
Mr Komorowski is the fourth democratically elected president of Poland and is seen by correspondents as someone who will lead the country into a period of political stability.
Under the constitution, the president has power of veto and the right to make key nominations but most executive power rests with the cabinet.
Mr Komorowski took the oath of office in front of MPs in the Polish parliament in the capital, Warsaw.
"Smolensk was our common tragedy, our common mourning," he said in his inaugural speech, referring to the Russian region where President Kaczynski's jet crashed while trying to land in dense fog on 10 April.
"It also showed us all that our society, state, democracy, constitution can rise to such a situation."
Thanking some nine million Poles who had voted for him, he added that he was aware that almost eight million had supported his rival.
"I will try to perform my duties as president in such a manner to win their understanding and appreciation," he said.
On Poland's role within the EU, he said: "We are joining the group of European leaders, we want to strengthen, inspire and dynamise the old continent, to which Poland's presidency of the EU in the second half of 2011 will also contribute."
Poland would continue to back countries like Ukraine aspiring to EU entry, he added.
On Nato, he said Poland was "conscious of its allied obligations" and that it should commit its forces "to allied actions". Poland currently has some 2,500 soldiers in Afghanistan as part of the Nato-led coalition.
The 55-year-old father of five, who comes from an aristocratic family, is a social conservative.
He ran as the candidate of the centre-right governing party, Civic Platform, which supports the free market and is pro-EU.
He won July's run-off election against Mr Kaczynski, the leader of the conservative Law and Justice Party, by a smaller margin than had been expected - 53% to 47%.
The BBC's Adam Easton in Warsaw says Mr Komorowski is unlikely to use his power of veto over legislation very frequently during his five-year term, something his predecessor did.
With a like-minded president and government, Poland appears to be entering a relatively rare period of political stability, our correspondent adds.
Related Internet Links
The BBC is not responsible for the content of external sites.