Germany to compensate Afghan families for Kunduz strike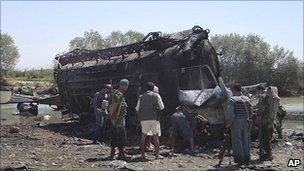 Germany will pay $5,000 (3,800 euros, £3,150) each to families of people killed or injured in an air strike near the Afghan town of Kunduz.
The families of 91 Afghans killed and those of 11 injured in the attack last September are to receive compensation.
The strike on two fuel tankers hijacked by the Taliban was ordered by a German commander and killed up to 142 people.
It caused outrage in Germany, forcing the resignations of a former defence minister and the army chief of staff.
Both resignations were linked to allegations of a cover-up over the raid.
The German defence ministry is still negotiating with the families of 74 victims in Kunduz, but those talks are separate from the voluntary $5,000 payment, which does not constitute an acceptance of legal responsibility, the Associated Press (AP) news agency reported.
Germany has arranged to pay the money into special bank accounts to prevent the Taliban getting hold of it, German media report.
There are about 4,500 German troops deployed in the relatively calm northern area of Afghanistan.
Regular compensation payments are made by the US and other members of the Nato-led coalition fighting the Taliban in Afghanistan.
Guidelines for US army units operating in Helmand province provide for $1,500-$2,500 compensation for the death of a child or adult, according to AP.