France starts removing Roma camps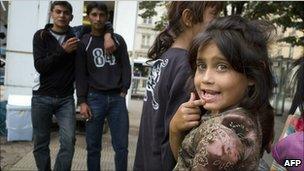 France has begun dismantling illegal Roma (Gypsy) camps following a presidential order for hundreds of such camps to be removed.
On Friday, about 100 people were moved on after police emptied a camp in the central city of Saint-Etienne.
The Roma had been living there in makeshift shelters and tents since May.
It was the first such move since President Nicolas Sarkozy announced a week ago plans to shut 300 illegal camps within the next three months.
Mr Sarkozy also said members of the Roma community who had committed public order offences would be deported immediately.
The order was a response to last month's attack on a police station in the Loire Valley town of Saint-Aignan by a group of young Roma.
'Shocking living standards'
Police began the operation to clear the makeshift homes and tents on council-owned land in Saint-Etienne shortly after dawn on Friday.
Officers first sealed off the area, and then removed the occupants.
The BBC's Hugh Schofield in Paris says a Romanian police officer was present, a sign that these members of the Roma community were recent immigrants from Eastern Europe.
President Sarkozy's government has recently struck a hard line towards what he has defined as "certain elements" in the Roma and traveller communities, our correspondent says.
This followed the riot in Saint-Aignan, which erupted after a gendarme shot and killed a traveller who had driven through a checkpoint, officials said.
The government's decision to clear 300 unauthorised camps - reportedly half the total in France - has been condemned by human rights groups, who say it is deliberately stigmatising a generally law-abiding section of society to win support among right-wing voters.
However, a poll out this week suggests that the majority of the population approves of the government's toughening line on law and order, our correspondent adds.
The government has said it cannot "tolerate" the camps, describing them as "sources of illegal trafficking, of profoundly shocking living standards, of exploitation of children for begging, of prostitution and crime".
There are hundreds of thousands of Roma or travelling people living in France who are part of long-established communities.
The other main Roma population is made up of recent immigrants, mainly from Romania and Bulgaria. They have the right to enter France without a visa but must have work or residency permits to settle over the long-term.
Related Internet Links
The BBC is not responsible for the content of external sites.