Germany shuts 9/11 plotters' mosque in Hamburg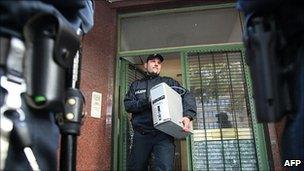 German police have shut down the Hamburg mosque where the 9/11 hijackers met before their suicide attacks on the US in 2001.
Police said they believed the Taiba mosque was again being used as a meeting point for extremists.
The cultural association that runs the mosque has also been banned.
A German intelligence report last year said radical Muslims had travelled to military training camps in Uzbekistan after associating at the mosque.
"We have closed the mosque because it was a recruiting and meeting point for Islamic radicals who wanted to participate in so-called jihad or holy war," said Frank Reschreiter, a spokesman for Hamburg's state interior ministry.
He said 20 police officers had been searching the building and had confiscated material, including several computers, the Associated Press reported.
There was no announcement of any arrests.
Ahmet Yazici, a spokesman for Islamic groups in northern Germany, said authorities should be targeting people rather than places of worship.
"Radical Islamism exists wherever there are Muslims, there is a handful of people with a different concept of Islam, the state must deal with these people by legitimate means and punish any violent acts," he told the BBC World Service.
"But that doesn't justify discrediting Islam as a religion - as a place of worship can not commit a crime."
The mosque, formerly called the al-Quds Mosque, in Hamburg's St Georg district has been under surveillance since the 2001 attacks.
A recent intelligence report described the mosque as "a major hub for the jihadist scene in Hamburg", which it said included 45 radical Islamists.
US investigators say an al-Qaeda cell based in Hamburg masterminded the 9/11 attacks, in which hijackers crashed two planes into the World Trade Center in New York, one into the Pentagon in Washington, and one crashed in a field in Pennsylvania.
About 3,000 people died in the attacks - the worst acts of terror carried out on US soil in modern times.