Fears over Latvia brain drain as economy struggles
By Damien McGuinness
BBC News, Riga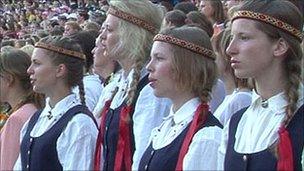 Every four years, more than 12,000 students and children gather on a giant stage in Riga to sing national folk songs.
Wearing brightly-coloured folk costumes, they are visibly moved as they sing traditional songs reminding them of Latvia's brave struggle for freedom from 20th-Century Soviet occupation.
But many of the young people here today may soon be forced to say goodbye to the homeland they love so much.
Latvia is losing more than 1% of its population annually, as the country's young people head abroad to find work.
With 2.2 million inhabitants, Latvia is already one of Europe's least populous countries. But every year around 30,000 people emigrate.
Engineer to strawberry-picker
Martins Neimanis is one of those planning to leave Latvia within the next few months. Today he has come to GP Recruitment, an agency in Riga which finds work abroad for Latvians.
Mr Neimanis lost his job in 2008 when the economic crisis struck. And although he is an experienced civil engineer, he will probably end up picking strawberries or packing vegetables in England.
But, like many Latvians, he is stoical about the future.
"I'll do any job. I have to earn my living to survive. To do that, I'm prepared to give up the dreams I had about my career," he explains as he waits for his consultation.
Mr Neimanis is not alone. Since the beginning of 2010, this agency has seen a 50% increase in Latvians wanting to find jobs abroad.
The work usually means living in a caravan and earning about 4.50 euros, or £3.75 an hour working in the fields.
All of the applicants here today are young and well-qualified - exactly the people Latvia can least afford to lose.
"Very often we have school teachers with a high education and reasonably good English, and they will end up simply sorting or picking fruit or vegetables," says Ginters Purins, director of GP Recruitment.
The results of this trend can be seen out in the Latvian countryside, where schools are closing and some villages are simply dying out.
Rural depopulation is common in many former Soviet countries. But in Latvia, where the economy shrank 18% last year, the economic crisis has exacerbated the situation. Unemployment rates, which are hovering around 20%, are the highest in the EU, forcing people to seek work abroad.
With its turbulent history of foreign occupation, Latvia has a long tradition of emigration. But, until recently, birthrates were high - typically three or four children per woman.
Today, partly because of financial insecurity, the birthrate is below 1.4 children per woman - not enough to sustain the population, even without emigration. This means that the Latvian nation is not only shrinking, but also ageing.
According to social anthropologist and government adviser Roberts Kilis, this abstract demographic trend will soon have very real consequences for people - hitting them in the pocket. By the end of the year, he says, the government will no longer be able to cover pension payments.
"That would be the first major shock, when people see a change in the way the pension system operates," Mr Kilis says.
Back at the festival, the songs provoke strong emotions as Latvians think back with pride to the events two decades ago which led to the establishment of their own nation.
But since then the country has lost a fifth of its people. So now voices are being raised not just in song, but also in protest, calling for the government to enable Latvia to have not just a past to be proud of, but also a future.
Related Internet Links
The BBC is not responsible for the content of external sites.