Clean-up begins in flood-hit Central Europe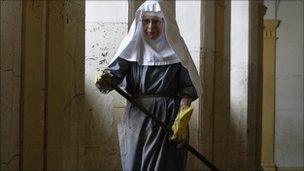 Flood waters that have damaged hundreds of homes in Central Europe are starting to recede, but the authorities remain on high alert.
At least 11 people are known to have died in Germany, Poland and the Czech Republic.
The Neisse river, on the border with Poland, rose to 7.07m (23ft) in Goerlitz - nearly 4.5m above the norm.
But it has now fallen by at least 40cm and a massive clean-up is under way across the region.
At the weekend rivers burst their banks, sending torrents of flood water through towns such as Bogatynia in Poland, and the historic German town of Bad Muskau.
More than 1,000 people had to be evactuated after water levels along the Polish-German border rose by four metres in three hours.
The authorities say the situation remains "tense" but are expected to downgrade the flood alert warnings during the day.
Emergency workers have continued to reinforce and repair dams and pile sandbags in critical regions.
Meanwhile questions are being raised over levels of communication between the Polish and German authorities.
Authorities in the German state of Saxony are claiming that they did not receive adequate warning that a dam in Poland had burst.
Nine people were killed in the border region due to flash floods caused by the dam breach.
There were several further deaths in the Czech Republic and Lithuania.
The same region was hit by heavy flooding in May and June this year, killing nearly 30 people.
The regional government of Saxony has promised a 100m-euro (£83m) aid package to help the affected area.
Meandwhile Poland's Prime Minister Donald Tusk and Germany's Interior Minister Thomas de Maiziere have promised emergency aid payouts.