Russia combats wildfires in Chernobyl radiation zone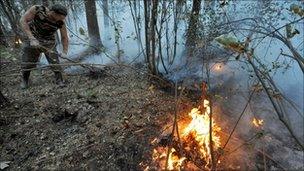 Russia is mounting extra patrols to fight wildfires in a region hit by nuclear fallout from Chernobyl, amid fears that radiation could spread.
Crews put out several fires in Bryansk, the emergencies ministry said, amid concern that wind or fire could whip up radioactive particles in the soil.
Officials say they are assessing the danger and there is no cause for panic.
Fires have swept through western Russia for a week, although officials say many are now under control.
The area engulfed by fires has halved, with 92,000 hectares (350 sq miles) now affected, compared to Tuesday's figure of 174,000 hectares.
Moscow enjoyed clear skies on Wednesday after rains helped cleanse the air after a week of heavy smog.
But more than 600 fires are still burning in different parts of the country, including around the capital, and weather forecasters are warning the smoke could soon return.
'Controlling the situation'
The chief of the forest protection service said his agency had increased patrols around the forests in Bryansk, the part of Russia that suffered the most from the Chernobyl disaster in what was then Soviet Ukraine.
"There is a danger, but we are controlling the situation," Vladimir Rozinkevich told the Associated Press.
Environmental groups, including Greenpeace, have warned that radioactive particles which settled into the soil after the 1986 disaster could be thrown up into the air once again by wildfires and blown into other areas by the wind.
A new wildfire was reported on Wednesday near an important nuclear research centre, at Sarov in the Nizhny Novgorod region.
Firefighters and troops who were sent to douse previous fires around the town have been urgently recalled to fight the new blaze, Russia's Interfax news agency says.
Hundreds of wildfires, sparked by the hottest summer ever recorded in Russia, have engulfed large areas around Moscow and other parts of western Russia, choking the capital in smog for a week.
The death rate in Moscow doubled to 700 people a day, mortuaries were overflowing, flights were disrupted and factories were forced to shut down.
Many Russians blame the government for being poorly prepared to handle the crisis, an accusation it denies.
Moscow's mayor refused to return from his holiday early to help deal with the crisis, and a top forestry official has been sacked for the same reason.
Prime Minister Vladimir Putin took to the air on Tuesday in a water bombing jet to douse fires in one of the worst hit regions.
Some 165,000 firefighters and 39 aircraft are battling the blazes.
Related Internet Links
The BBC is not responsible for the content of external sites.