Russian dairy to sack women who have abortions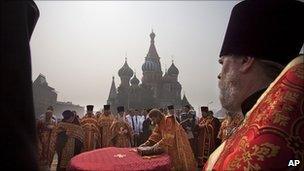 The head of a Russian dairy company has threatened to sack Russian Orthodox Christian employees who have abortions or refuse a religious marriage.
Vassili Boiko-Veliki, president of Russkoe Moloko, said staff married in a civil ceremony had until 14 October to undertake a religious wedding.
Critics said the rules violated labour laws and the constitution.
The Russian Orthodox Church has experienced a revival since the fall of the officially atheist Soviet Union.
Mr Boiko-Veliki said those women who had had abortions, or chose to have one in the future, would face dismissal.
"Abortion is the murder of someone," he told the radio station, Ekho Moskvy. "We do not want to work with murderers."
Mr Boiko-Veliki was also quoted as saying that newly-hired employees who had been married in civil ceremonies would be given three months to have a religious wedding.
Even employees from other religions would be obliged to receive instruction about Russian Orthodox culture, he said.
According to Ekho Moskvy, Mr Boiko-Veliki has said that the record heatwave that hit Russia in recent weeks was divine retribution for sins committed in the past.
Russkoe Moloko has some 6,000 employees.
Related Internet Links
The BBC is not responsible for the content of external sites.