Veteran dissident in hospital after Moscow crackdown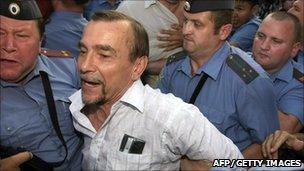 A veteran Russian human rights activist has been taken to hospital after a protest against the mayor of Moscow that was broken up by police.
Lev Ponomarev, who leads the For Human Rights movement, fell ill with high blood pressure after being detained by police, his lawyer Yelena Liptser said.
The rally calling for mayor Yury Luzhkov's resignation had been banned by the city authorities.
Protesters say Mr Luzhkov has failed to show leadership during the smog crisis.
The rally on Thursday was part of a so-called "Day of Wrath" against the Moscow authorities' policies.
Mr Ponomarev, 68, is a former member of the Russian parliament and a long-time critic of the government.
He is expected to stay in hospital for a few days.
Ms Liptser said the police "did not inflict any clear injuries on him while he was detained, but they twisted his arms". She blamed the Moscow heat for his illness.
Moscow has been blanketed for days in smog from wildfires, amid temperatures of nearly 40C (104F).
Police also detained 32 other protesters, nearly all of whom were later released. In all, about 70 people attended the rally.
It is the third time this year that opposition activists have tried to hold a "Day of Wrath" in Moscow. Police also broke up the previous demonstrations.