First lady joins official ranks of Venice's gondoliers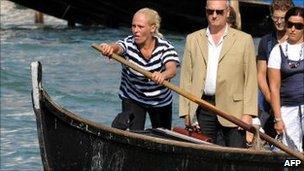 Authorities in Italy's lagoon city of Venice have granted a full licence to a female gondolier for the first time.
Mother-of-two Giorgia Boscolo, 24, whose father was also a gondolier, passed a year-long series of practical and written tests.
Mrs Boscolo joins the hitherto all-male Venetian gondoliers' guild and can now officially row tourists through the city's narrow canals.
She hopes to have her own gondola tied up in front of St Mark's Basilica.
Venice deputy mayor Sandro Simionato admitted there had been "excessive male domination" inside the 425-strong gondoliers' guild, which jealously guards its ancient traditions and skills.
But the BBC's David Willey in Rome says that even now, Giorgia Boscolo can only stand in for a male colleague if he wants to take a day off from the lucrative job of rowing tourists.
Fares start from 40 euros ($50 £32) for a 20-minute ride in the glossy 11-metre long, black-painted craft with its distinctive metal prow.