Russia lashed by storm after heatwave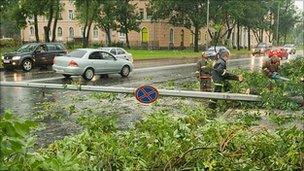 Russia's record-breaking heatwave looks set to come to a dramatic end, with a severe storm now heading for Moscow after battering St Petersburg.
Nearly 100,000 people around St Petersburg were left without power, rail services were halted and trees felled amid high winds and heavy rains.
Moscow is expected to be hit later. Temperatures there dropped to 25C on Monday after nearing 40C for weeks.
Fires that have raged across western Russia are being brought under control.
The emergencies ministry said the area affected by peat and forest fires was down to 45,800 hectares, compared to a peak of almost 200,000 hectares.
The fires took hold amid a heatwave unseen in Russia since records began, 130 years ago. More than 50 people have died in the forest fires, but the wider death toll is much larger.
Hundreds, or thousands, more people perished from the direct effects of the heat, or from drowning while trying to escape it, or from the smog that has blanketed Moscow and other regions during the fires.
The smog has returned to Moscow, despite the lower temperatures and reduced fire area, but is expected to be dispersed by the coming winds.
The fires and drought have also had a devastating effect on Russia's wheat harvest.
Prime Minister Vladimir Putin said that this year's crop could be as low as 60 million tonnes, well below last year's 97 million.
The shortage is such that a ban on grain exports has been introduced, possibly until the end of the year.
The measures are designed to keep domestic food prices under control, but could push world prices still higher.
Last week economists predicted that the heatwave and forest fires would cut $15bn (£9bn) from Russian economic output.
Concerns remain about fires near Russia's major nuclear research facility in Sarov, about 400km (250 miles) east of Moscow, and in the Bryansk region, heavily affected by radiation from the Chernobyl nuclear disaster.
Officials said on Monday that fires near Sarov had been controlled.
But environmentalist and regional legislator Lyudmila Kolmogortseva warned that radioactive material near Bryansk still posed a threat.
"Almost a million cubic meters of dead radioactive wood pose serious danger if the fires spread," she told the Associated Press.
"The forest is practically impenetrable, and we practically have no aviation so we'll have nothing to fight the fires if they spread."
Officials said any fires that had reached the area so far have been extinguished.