Romanian 'spy' arrested in Russia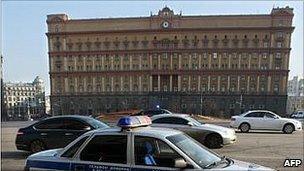 A senior Romanian diplomat has been ordered to leave Russia, after being arrested and accused of spying.
Russia's FSB security agency said Gabriel Grecu was detained in Moscow "during an attempt to receive secret information of a military nature from a Russian citizen".
The first secretary of the Romanian embassy's political department was caught "red-handed", the FSB said.
Romania's foreign ministry said it was not commenting on the allegations.
An FSB spokesman said Mr Grecu was detained on Monday, and that the agency had launched an investigation.
"Items of spying equipment that fully reveal his hostile activity against Russia have been confiscated," the unnamed spokesman told the AFP news agency.
Russia had declared Mr Grecu "persona non grata" and said he should leave the country within the next 48 hours, the FSB said.