Hungarian priest gets on skateboard to connect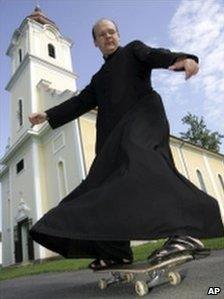 A Hungarian Catholic priest who spreads God's word from a skateboard has become an internet sensation.
A video of the Reverend Zoltan Lendvai, 45, in action has attracted almost 170,000 hits on YouTube.
The video, Funny Priest Skateboarding, shows Father Lendvai, clad in full clerical garb, displaying his moves.
It is not clear whether he has mastered the nose-grind or the kick-flip, but his skills have helped attract young people to his church.
Father Lendvai, whose first board bore the papal coat of arms, believes skateboarding can pave the way to God for young people.
He says his distinctive method of spreading the word on wheels is inspired by Saint John Bosco. The 19th century Italian priest and teacher dedicated his life to improving the lot of poor young people, using games as part of their education.
"Many times I have felt that this is the way I can bring many people a bit closer to Jesus," Father Lendvai, who learned to skateboard at the age of 14 at school, told Reuters news agency.
However, it was not until he started to serve as a priest that he realised the switch stance and the shove-it might be more effective than the sermon in turning young people towards the church.
Three teenage boys who had never attended church before started coming regularly after he showed off his skateboard tricks, said Father Lendvai, who lives and preaches in Redics, a small village on Hungary's border with Slovenia.
However, his four-wheeled ministry does not come cheap: he has given away at least six skateboards to his young parishioners.
Related Internet Links
The BBC is not responsible for the content of external sites.