Romania maternity hospital fire kills newborn babies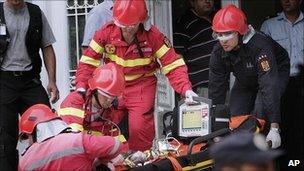 A fire in a Romanian hospital is now known to have killed four newborns and left several babies clinging to life.
The fire, apparently caused by an electrical fault in the air conditioning system, swept through the Giulesti hospital in Bucharest.
Health Minister Attila Cseke described Monday's fire as "one of the darkest tragedies in the history of the Romanian healthcare system".
In all, eight babies sustained serious burns and were moved for treatment.
Health ministry official Raed Arafat announced the death of a fourth baby on Tuesday after three babies had died on Monday.
Dan George Enescu, head of the Bucharest children's hospital, described the surviving babies' condition as "extremely critical".
"Those prematurely born babies have burns covering 70-80% of their bodies... It is too much for them. They are just five days old," he said.
Prosecutor-in-chief Marius Iacob said the fire had started in the neonatal intensive care unit: "The medical devices show deep smoke impregnation and burn marks. The whole medical staff is being questioned."
Romania's healthcare system is often regarded as one of the worst in the European Union.
But the Giulesti maternity hospital in the north-west of the capital has a reputation as one of Romania's best, with relatively modern conditions compared to those in older, cash-starved institutions, reports the BBC's Central Europe correspondent Nick Thorpe.
The BBC's Oana Lungescu reported last week on how chronic underfunding and a brain-drain of medical staff in Romania might be putting patients at risk.
Related Internet Links
The BBC is not responsible for the content of external sites.