Radovan Karadzic trial recalls siege of Sarajevo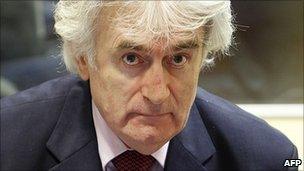 The war crimes trial of former Bosnian Serb leader Radovan Karadzic, on its return from a summer break, has heard about the siege of Sarajevo.
A UN observer said the bombardment of the Bosnian capital in late 1992 was so intense that the UN ran out of space to record the attacks on its forms.
Mr Karadzic, who is defending himself, attended the session at the international court in The Hague.
He denies 11 charges of genocide, war crimes and crimes against humanity.
Prosecutors say he orchestrated a campaign of "ethnic cleansing" against Bosniaks (Bosnian Muslims) and Croats in eastern Bosnia to create an ethnically pure Serbian state.
Some 12,000 people died during the siege of Sarajevo, over which Mr Karadzic is accused of the indiscriminate targeting of civilians.
At the trial on Tuesday Richard Mole, the former United Nations senior military observer for Sarajevo, described the intensity of the shelling.
"The strike rate of heavy artillery within the concentrated area of Otis was unbelievable," he recalled.
He said there was not enough space on the sheets the UN used to record the attacks, meaning observers had to write on the back too.
Mr Karadzic was arrested in 2008 after nearly 13 years on the run.
During his time in power, he was president of the self-styled Bosnian Serb Republic and commander of its army during the Bosnian conflict which left more than 100,000 people dead.
Related Internet Links
The BBC is not responsible for the content of external sites.